A Little Background
If you have a PC that's more than a year old, it probably didn't come with Windows 10. If you're reading this on a Windows XP computer… well, then the answer to the title question is definitely, "Yes, upgrade now!" For everyone in between (Windows 7, 8, and 8.1) the answer is a little more complicated.
Windows 10 was released in July 2015. It is a free, downloadable upgrade for people with Windows 7, 8, or 8.1. Microsoft has been pushing it via the task bar and pop ups that, if you're running one of those versions of Windows, I'm sure you've seen by now:
For Windows 7 Users…
If you use and like Windows 7, keep it for now. Here's why. First, there's a decent chance you're running a 32-bit version (as opposed to 64-bit). If this is the case, you may want to stick with 7 until you buy a new computer. There's some technical reasons why, but basically, unless you're really excited about some of 10's new features, there's not much of a reason to upgrade yet.
Second, even if you are running a 64-bit system, you may want to wait a bit longer. Microsoft just came out with its first round of major upgrades for 10. While this shows promising signs of a more responsive and agile Windows development team (it only took 3.5 months between release and the first major update), it's still a bit too early for 10 to have been fully field tested.
For Windows 8 and 8.1 Users
Windows 10 is considered by many early adopters to be a solid step up from Windows 8 and 8.1, mostly because these versions are generally agreed to be pretty terrible. So if you hate the apps, hot corners, and 8's other *ahem* unique features, go ahead and upgrade.
What's in Windows 10 Anyway?
The Start Menu
Yes, it's the return of the Start Menu and the Desktop. Gone is the Home Screen or whatever they were calling it in 8 and 8.1. However, the Start Menu has taken on some distinctly Windows 8-ish aspects: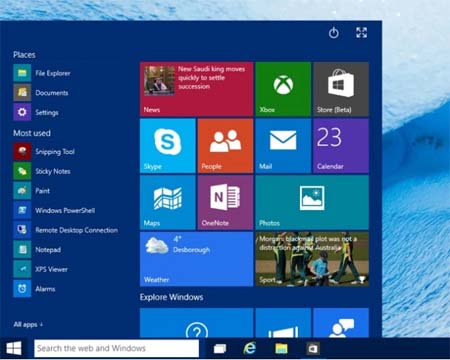 However, this is thankfully customizable.
Edge Browser
The Edge browser is Microsoft's replacement for Internet Explorer. It's probably better than IE (can't be worse), but still, just use Chrome or Firefox.
Skype, Sway, and OneDrive
Taking a cue from Apple, Microsoft is doing much more in Windows 10 to push you into using more of its services.
Virtual Desktops
This is eventually going to be one of Windows 10's most useful features, although it still needs some work. Virtual desktops allow you to create and switch between desktops, which sort of simulates having multiple monitors. It's still pretty tough to move windows between virtual desktops, but Windows will eventually take some lessons from Ubuntu workspaces and make this much simpler.
Other Stuff
There's obviously much more that's new, but much of it is either cosmetic or under the hood. As far as performance, Windows 7, 8, 8.1, and 10 are actually pretty comparable. However, 10 has the potential for future performance upgrades.
Need help learning or upgrading Windows? Just give us a call at (424)259-1814, or add the lesson below to your cart and checkout to set up an appointment.
Personal Lessons > Computer Basics 1
This lessons is a quick tour of the Windows Operating System. It covers logging in, the Start Menu, managing open windows in the taskbar, the Control Panel, and updating Windows.
≈ 60 minutes